FUSOのIotソリューション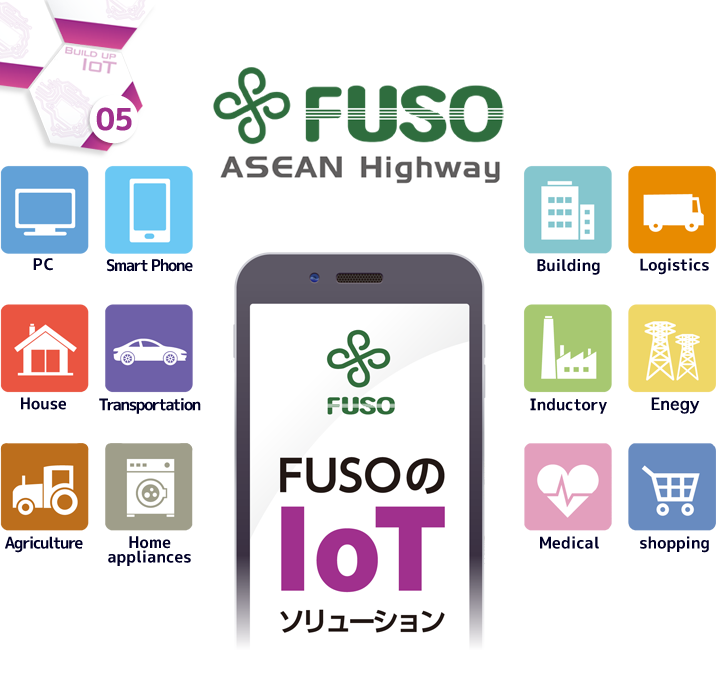 コンセプト 

- Concept -
世界はインターネットを超えてIoTの時代へ。
人と人、人と企業・サービス、人とモノ、モノとモノがダイレクトにネットワークで繋がり、そこにAI(人工知能)の技術も加わって、私たちの生活は激変すると言われています。
FUSOでは、ロジスティックスで培ったシステムとコミュニケーションのノウハウを元に、IoT技術を使ったサービスをこれからどんどん行ってまいります。
---
The world goes beyond the Internet to the era of IoT.
People and people, people and companies / services, people and things, things and things are linked directly by the network, and AI (artificial intelligence) technology is also added there, and it is said that our life will change dramatically.
Based on the know-how of systems and communication cultivated through logistics, FUSO will continue to do more and more services using IoT technology.
プロダクト内容 

- Product -
PCソフトウエア、スマートフォンアプリはもちろん、家の中にあるさまざまなモノと家族をつなぎます。家電製品、趣味・娯楽、クルマから健康管理に至るまで、人の生活をIoTが見守る、そんな仕組みをご提供します。また、企業や事業者様に向けても、農業、エネルギー、流通など、多くの分野でIoTに関連するサービスをご提供します。
---
PC software, smartphone application, as well as various things in the house and family. Provide such a mechanism that IoT watches the lives of people from home appliances, hobby / entertainment, cars to health care, and so on. We also provide services related to IoT in many fields such as agriculture, energy, distribution, etc. for companies and business operators.
契約のご案内 

- Agreement -
FUSOグループと個人のお客様の間においては、お望みのIoTサービスをお選びいただき、ご納得いただいた費用でご契約を結び、サービス愛しとなります。事業者様においては、ニーズに合わせたIoTサービスを開発することも可能です。いずれの場合にも、ご連絡をいただきましたら、IoT専任担当者がコンタクトを取りますのでご遠慮なくお問い合わせください。
---
Between the FUSO group and individual customers, we will choose the desired IoT service, sign up a contract with the price we agree with, and we will love the service.For business operators, as necessary It is also possible to develop an IoT service. In any case, if you contact us, IoT dedicated staff will contact you so please do not hesitate to contact us.